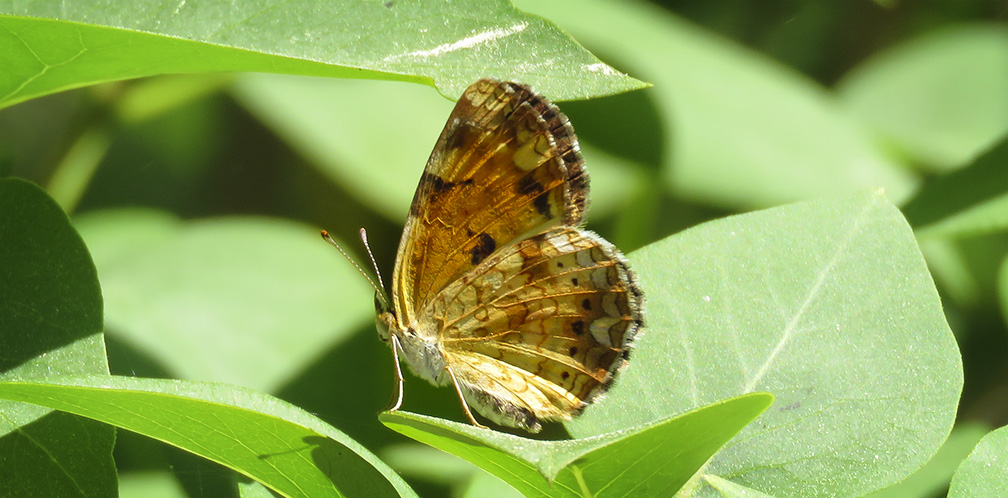 The Northern Crescent (Phyciodes cocyta) is a small orange and black butterfly that may be seen in the Adirondack Mountains of upstate New York in summer. It is a member of the Brushfoot family. [1] Its name derives from the crescent-shaped spot near the margin of the hind wing below. [2] It is sometimes referred to as the Northern Pearl Crescent. [3]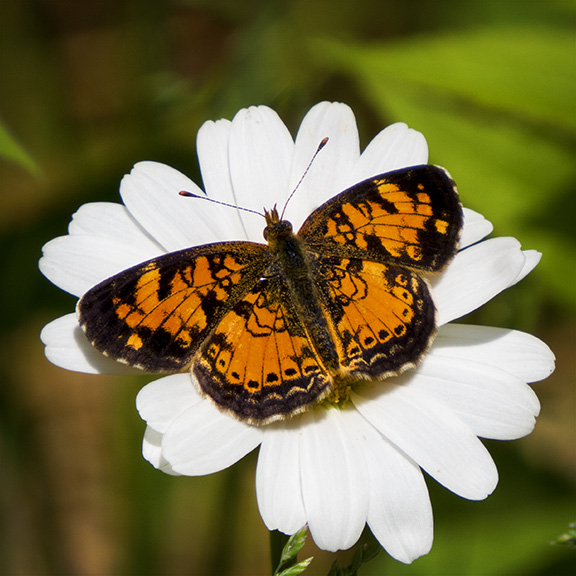 This butterfly is very similar to the Pearl Crescent and has only recently been recognized as a separate species. [4] [5] [6] In fact, more recent evidence suggests that it may not be a full species after all. [7] At least one expert remains unconvinced that this is a valid species, noting that there is considerable overlap in the identifying characteristics of Pearls and Northerns. [8]
From above, the Northern Crescent is orange, with dark borders. The underside of the hind wing is orange with a brown patch surrounding a pale marginal crescent.[9] The tip of the antenna on the Northern Crescent is orange. [10] [11] [12] (That of the Pearl Crescent, at least according to some experts, is black and white.) [13] Female Northern Crescents tend to be larger and darker than males. [14] [15] The Northern Crescent has a wing span of 1 to 1.5 inches. [16] Its fore wings are rounded. [17] The flight of the this butterfly is direct and low, with alternating series of flaps and flat-winged glides. [18]
The female Northern Crescent lays her eggs in groups of around forty on the underside of its preferred host plant -- the aster. [19] Adults consume nectar. [20]
The Northern Crescent ranges from the northeastern parts of the US (including upstate New York) and southern Canada, westward to Vancouver Island. [21] In terms of ecology, the Northern Crescent may be classified as a medium generalist.[22] It can be found in a wide variety of habitats where asters grow, including abandoned city lots, wooded streams, the edges of marshes, forests, and mountain meadows. [23] [24]
Although the flight period for Northern Crescents in the Adirondack Mountains has not been established, this butterfly appears to fly in our area in late June, July, and (in some years) early August.
---
References
Susan Grimm Hanley. Interpretive Naturalist, Paul Smith's College Native Species Butterfly House. Species Logbooks.
Butterflies and Moths of North American. Species Profiles. Sighting records: 7/30/2012; 7/30/2012; 9/14/2012; 6/25/2013; 6/13/2015; 6/18/2016; 6/18/2016; 6/18/2016; 6/18/2016; 8/11/2016; 8/15/2016.
Government of Canada. Canadian Biodiversity Information Facility. SpeciesBank.
ENature. Field Guides.
Iowa State University. Department of Entomology. BugGuide.
Ross A. Layberry, Peter W. Hall, and J. Donald Lafontaine. The Butterflies of Canada (University of Toronto Press, 1998), p. 190, Plate 15.
Jim P. Brock and Kenn Kaufman. Kaufman Field Guide to Butterflies of North America (Houghton Mifflin, 2003), pp. 176-177.
Paul A. Opler. A Field Guide to Eastern Butterflies (The Peterson Field Guide Series, Houghton Mifflin Company, 1992,1998), pp. 86-87, 257-258.
Jeffrey Glassberg. Butterflies of North America (Michael Friedman Publishing, 2002), pp. 140-143.
Jeffrey Glassberg. Butterflies through Binoculars. The East. A Field Guide to the Butterflies of Eastern North America (Oxford University Press, 1999), pp. 114-115, Plate 32.
Paul A. Opler and George O. Krizek. Butterflies East of the Great Plains: An Illustrated Natural History (The Johns Hopkins University Press, 1984), pp. 147-148, Plate 27.
Rick Cech and Guy Tudor. Butterflies of the East Coast. An Observer's Guide (Princeton University Press, 2005), p. 170.