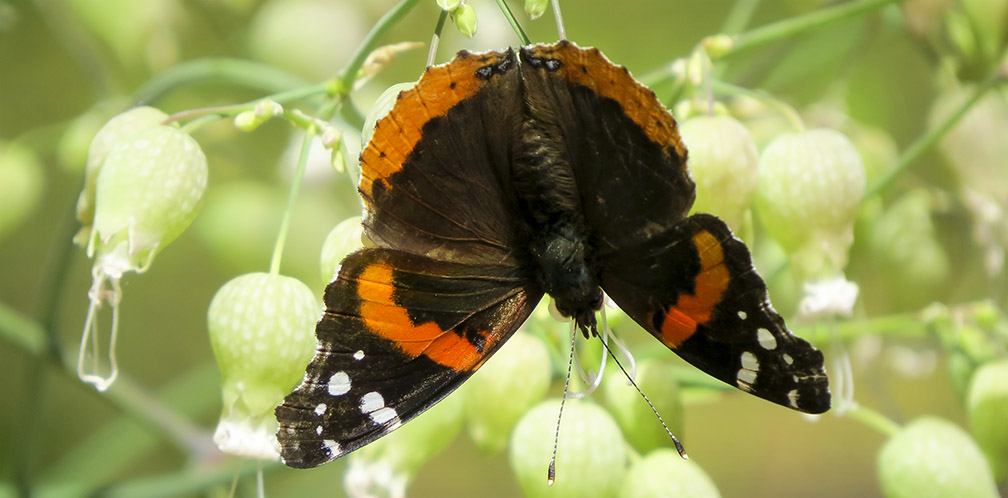 The Red Admiral (Vanessa atalanta) is a medium-sized orange and black butterfly that may be seen in the Adirondack Mountains of upstate New York throughout the summer. It is a member of the Brushfoot family of butterflies. [1] Like the Painted Lady and American Lady, it is in the genus Vanessa. This species is named after Atalanta, a character in Greek mythology. [2]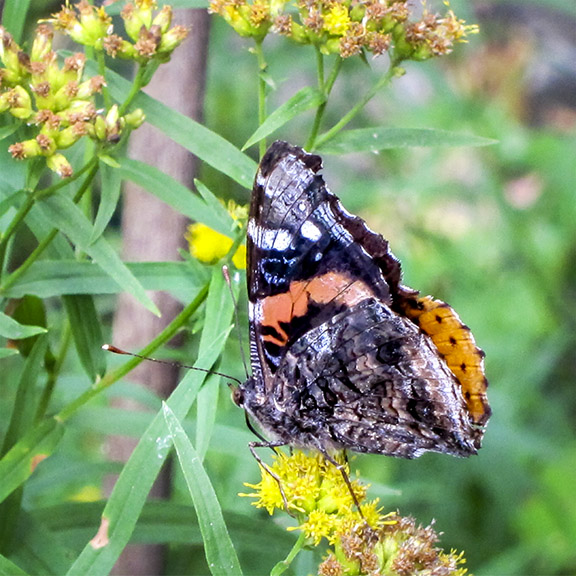 From above, the Red Admiral has black wings with reddish orange bars across the fore wing and on the border of the hind wing. The wing edges are slightly scalloped. [3] Seen from below, this butterfly is multi-colored – mottled black, brown and blue, with a pinkish bar on the fore wing. [4] [5] It has a wingspread of about one to two inches. [6] It appears small and dark during flight. [7]
The Red Admiral has an erratic and rapid flight pattern. [8] [9] Male Red Admirals set up territories on hilltops or clearings in late afternoon and early evening, waiting for females. [10] Females lay their eggs singly on the tops of host plant leaves. Host plants are those of the nettle family. [11] Adult butterflies consume sap flows on trees, fermenting fruit, and bird droppings. [12] [13] They also nectar on common milkweed, red clover, aster, and alfalfa.[14]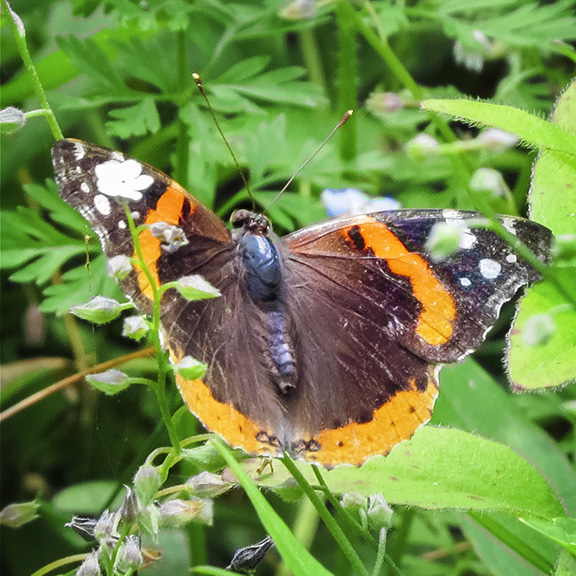 In terms of ecology, the Red Admiral is a generalist[15] and reportedly can thrive in a variety of habitats, including clearings in the woods, fields, vacant lots, and gardens. [16] [17] Red Admirals are said to be particularly comfortable in moist situations. [18]
The Red Admiral ranges from southern Canada and the US to the northern part of Mexico. [19] It is a holarctic species, which is also found in Europe and northern Asia. [20] [21] The Red Admiral is a migrant which cannot survive extremely cold winters, although some reportedly overwinter successfully in northern areas in mild winters. [22] [23] [24] [7] In most years, southern migrants recolonize the northern part of North America every spring. [25] [26] [27] [28] This northward movement tends to be very rapid, [29] and (in some years) quite massive. [30]
Normally, the Red Admiral is not seen in this area until some time in June. However, probably as a result of a mild winter, Red Admirals arrived much earlier than usual in 2012, with some observers reporting swarms of Red Admirals as early as April in some parts of the Adirondacks. In 2012, the Red Admiral was present in the Paul Smiths VIC Native Species Butterfly House from late June to early September. [31]
---
References
Susan Grimm Hanley. Interpretive Naturalist, Paul Smith's College Native Species Butterfly House. Species Logbooks.
Butterflies and Moths of North American. Species Profiles. Sighting records: 8/4/2012; 8/4/2012; 8/25/2012; 9/1/2012; 9/1/2012; 9/9/2012; 7/5/2014; 8/9/2014; 8/19/2014; 7/4/2015.
Government of Canada. Canadian Biodiversity Information Facility. SpeciesBank.
Massachusetts Butterfly Club. Massachusetts Butterfly Species List.
ENature. Field Guides.
Iowa State University. Department of Entomology. BugGuide.
University of Michigan. Animal Diversity Web.
Ross A. Layberry, Peter W. Hall, and J. Donald Lafontaine. The Butterflies of Canada (University of Toronto Press, 1998), pp. 206-207, Plate 26.
National Audubon Society. Field Guide to Butterflies (New York: Alfred A. Knopf, 1981), pp. 627-628.
Jim P. Brock and Kenn Kaufman. Kaufman Field Guide to Butterflies of North America (Houghton Mifflin, 2003), pp. 202-203.
Paul A. Opler. A Field Guide to Eastern Butterflies (The Peterson Field Guide Series, Houghton Mifflin Company, 1992,1998), pp. 88-89, 270.
Jeffrey Glassberg. Butterflies of North America (Michael Friedman Publishing, 2002), pp. 150-151.
James A. Scott. The Butterflies of North America. A Natural History and Field Guide (Stanford University Press, 1986), pp. 280-281.
Donald and Lillian Stokes. Stokes Butterfly Book. The Complete Guide to Butterfly Gardening, Identification, and Behavior (Little, Brown and Company, 1991), pp. 72-75.
Jeffrey Glassberg. Butterflies through Binoculars. The East. A Field Guide to the Butterflies of Eastern North America (Oxford University Press, 1999), p. 123-124, Plate 36.
Paul A. Opler and George O. Krizek. Butterflies East of the Great Plains: An Illustrated Natural History (The Johns Hopkins University Press, 1984), pp. 160-161, Plate 30.
Rick Cech and Guy Tudor. Butterflies of the East Coast. An Observer's Guide (Princeton University Press, 2005), p. 189.
David Carter. Butterflies and Moths (Dorling Kindersley, Inc., 1992), p. 138.
Thomas J. Allen, Jim P. Brock, and Jeffrey Glassberg. Caterpillars in the Field and Garden. A Field Guide to the Butterfly Caterpillars of North America (Oxford University Press, 2005), pp. 98-99.